Alarms
Alarm systems are designed to detect unauthorised entry into a building or sensitive area and provide protection against burglary (theft) or property damage, as well as personal protection against intruders. All business owners want to ensure their investments are protected against losses from the public and their own employees. There are many benefits of using an alarm system, including …
Increased deterrent – our systems are a great deterrent to potential thieves. Once they realise that your business is protected they invariably choose to go somewhere else
Staff protection – help employees feel safe with either fixed or portable 24 hour duress/panic button remote control devices
Reduced theft – shop lifters deliberately target businesses with poor security so will think twice if there is an increased risk they may be caught
Control off-site – operate your system via your smartphone including arming, disarming and receiving live data during an event
24 hour Monitoring - protect your premises through our monitoring station 24 hours a day, 7 days a week
Controlled Access – establish individual access codes for all employees and scheduled times they can enter the building or certain areas
Reduce the cost of your insurance premium – it is a requirement by many insurance companies that security is installed at the premise and this may lead to reductions in premiums.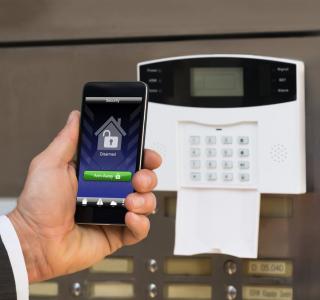 See what our clients say about us:
We would highly recommend Smallman security. James and the team are great to deal with and very prompt. We are very happy with our cameras and the quality they provide us. We would not hesitate to recommend Smallman security to anyone as we cannot speak highly enough about this company

- 2016-09-12

.