Access Control
We can provide you with a sophisticated security solution to control who enters your premises and when – from the simplest to the most challenging. An access control system acts as your own electronic gatekeeper, allowing for the free flow of authorised personnel while denying entry to unwanted visitors. Thieves and trespassers will be shut out, reducing your exposure to crime and increasing the security of your visitors, information and assets. Additional to this you can secure an area of your premises, observe movement within as well as integrate with other systems. An example is the need for a CCTV camera to be able to focus on a door that has been highlighted as a security risk by the access control system.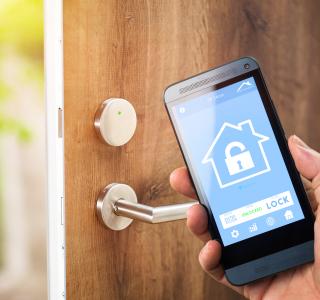 See what our clients say about us:
Just wanted to send a BIG thank you for helping me turn off my alarm system. I really appreciated your assistance. Thank you for ringing me back so quickly and meeting my urgent need to switch off the alarm. As mentioned on the phone, I had called police, fire brigade, the company that installed the alarm and an electrician who suggested your company, Smallman Security. I feel grateful that professional personalised service still does exist! I would not hesitate to recommend Smallman Security to my friends and family here in Newcastle.
Many thanks for your kindness and expert assistance.

- 2016-10-14

.