Alarms
Alarm systems are designed to detect unauthorised entry into a building or area and provide protection against burglary (theft) or property damage, as well as personal protection against intruders. When quoting on your system, our experienced sales staff will discuss and educate you on the various options available and the most suitable system for your needs. We cover a range of options from basic systems through to advanced technology. 
When quoting your premises, our qualified staff will recommend the following to be included in your alarm system:
Passive Infrared (PIR) Motion Detectors installed on or near the main entry points of your home
Wired or wireless system to suit your property and needs
Pet Sensors if you have small to medium pets which live inside
At least one internal siren near the entry point
A strobe light and an external siren as a visible deterrent
24/7 back to base monitoring
Window warning labels displaying that your premises is protected by an alarm system
For added security, it is advisable to have:
Reed switches that activate the alarm at entry points. These perimeter security switches activate your alarm for example if an intruder attempts to force open a door or window
The capability to partially arm the system at night when you are asleep;
An annual preventative maintenance service
Individual access codes for all employees for example a cleaner
Remote control device programmed with a panic button. With a dual press panic/duress button you will have 24/7 protection.
Monitored Smoke Detector, with the ability to be monitored through your security alarm the smoke detector will provide early warning alerts.
Wireless Remote will allow you to arm and disarm your security system with the push of a button. The unique code works exclusively with your compatible security system.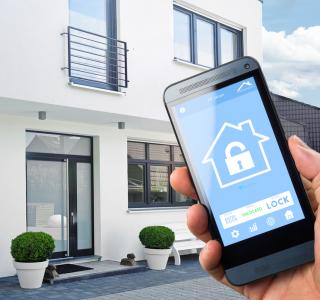 See what our clients say about us:
Just a short note to say thanks to James and the team ,After dealing with the big name companies that have been around for a long time in Newcastle re our intercom supply and fit ,they all seemed confused not quite sure on how to install or what to use ,we contacted Smallman security ,they were prompt ,knew what was required supplied and fitted our new intercom in no time ,and did what the others said was impossible!! James called me during the job with a tricky question ,my reply was ,James ,do what you would do if it was your house, when i got home i was over the moon ,looked great workmanship was second to none ,we do a lot of projects the time and hassle I wasted with the others will not happen again SMALLMAN SECURITY thank you

- 2016-08-31

.